Product description
Product reviews
Shipping & Return
One of the most unique products in our store.The moon will actually be floating in a 360-degree motion in your room! Using magnetic technology we have been able to provide a moon lamp that is able to hover right beside you whilst you relax withyour choice of color fit for your mood.
Simply plug in the base for power. place the moon lamp on top and welcome yourself to space!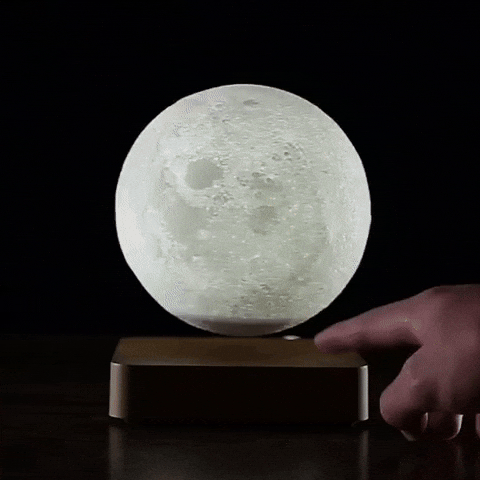 This gravity-defying moon lamp effortlessly floats above adark-colored wood base; and slowly rotates just like the real orbiting moon. Made with safe PLA material. this 3D printed full moon even has a textured surface just like the moon's craters and glows an ethereal-like light as it emits its cool white light.
Suspended by a strong built-in magnet it creates a fascinating andeye-catching illusion of the real thing. With three different light modes. you can set the mood lighting accordingly. Likewise. you can have the moon rotating without any lighting.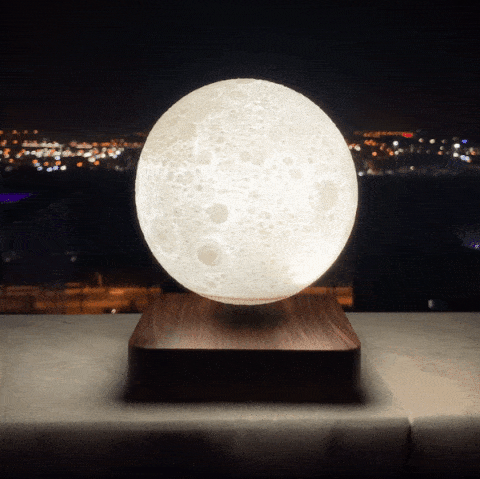 The wooden baseboard is mains powered which in turn charges the moon via inductive charging (wireless).
Specification
Base: Wooden square
Size: 14x14x17 cm
What's in the box?
Moon

Magnetic base
RGB remote (Multi Colour option only)
Suitable adapter for shipping region
Shipping details and delivery time will be showed at shipping policy page.
Items can be returned or exchanged within 14 days of delivery if there is a quanlity problem.
Handling time
Within 3 working days (For general items)
Within 5 working days (For handmade items)
Within 5-10 working days or more (For customized items)
Tracking your order:
Our order always include tracking information that is normally sent via email 48 hours after the order has been shipped.